You must have heard about raisins! These are dry fruits made by drying grapes. The grapes are kept under the sun, the moisture of the grapes go away and they turn black or dark brown. This is how raising is obtained. These are used while cooking sweet dishes mostly in India. Not just sweet in taste but they are healthy too. In this article of sarvyoga, we will understand the health benefits of raisins, and why one should consume it on a regular and balanced way.
Some Commonly Known Benefits
Raisins drastically treat in constipation. It improves digestion, bloating, iron level in the body increases and strengthens the bones as well. If a person is not able to gain weight, then he/she should consume raisins regularly. Fever, anemia, sexual issues are also solved by consuming this magical dry fruit. Those who have weak eyesight, having tooth problems, or unhealthy/dry hair, may also choose to consume this.
You Must Read This
Raisins are not too big or heave, they are basically small looking dry fruits, but full of nutrients. These are known as energy boosters also. Having a handful of raisins with a glassful of milk in the morning at breakfast helps to keep you full and energetic all day. These can be used as snacks. People involved in physical workouts like athletes, mountaineers, etc, consume raisins for high energy. Raisins are high in calories, say around 130 calories per 50 grams.
Extremely Beneficial for The Body
Raisins are carbs, protein, full of energy, and fiber. These have high sugar, but do not have cholesterol and are a provider of vitamin C, sodium, calcium, and other essential nutrients.
Health Benefits of Raisins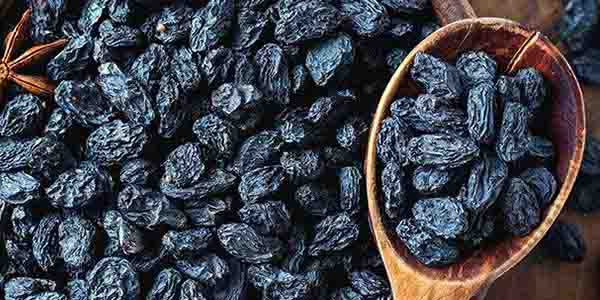 Helps in Escaping from Anemia
Raisins are extremely rich in iron and thus helps in treating anemia. The components in raisins help in the formation of new blood and produce red blood cells in good quantity.
High Antioxidants
Raisins are anti-inflammatory as they naturally consist of antioxidants. If you are suffering from arthritis or chronic pain, then your medicine is raisins, start taking them from today, especially gin-soaked, and you will see magical improvement in your pain within 2 months.
You will be shocked to know that this dry fruit is helpful in fighting a major illness called cancer. Yes, this is true. The catechins in raisins are helpful in this serious illness. The growth of cancer cells in the body can be treated by raisins. The fiber present in this dry fruit helps to flush out the toxins from the body. So it will be great if you start to eat raisins regularly to prevent you and your family from any serious disease. Raisins are also helpful in protecting eyes from any damage. They are also helpful in preventing the body from bacteria and viruses.
Healthy Teeth & Bones
The calcium composition in raisin makes it beneficial for dental health. For those who are seeing a yellowish effect in their teeth should eat raisins and see the difference. This dry fruit also consists of boron, this helps in promoting strong and healthy teeth and avoid the spread of germs. According to the experts, when you eat dry fruits, they should stick to your teeth for a longer period, this avoids the growth of bacteria. Thus, you should chew properly when eating dry fruits. Boron also helps in strengthening bones in the body.
Happy Hair with Raisins
You must intake raisins and practice yoga if you are having dry or unhealthy hair. This has vitamin C which prevents damage to the cells, reduces dandruff, and promotes hair growth.
Healthy Weight Gain
One of the health benefits of raisins is that it helps in promoting weight growth in a healthy way. So, if you feel you are underweight then start to include raisins in your diet. People you are regular gym-goers eat raisins on a regular basis so that they can feel energetic all the time. This dry fruit helps to put on weight without increasing cholesterol.
Reduces Stress
According to experts, consuming raisins reduces stress and hypertension. It has potassium at a high level which is helpful in reducing hypertension.
Healthy Skin
As we told earlier that raisins are full of vitamin C and anti-inflammatory properties, this helps in stronger and healthier skin. Consuming this dry fruit along with performing a few effective yoga asanas helps in glowing skin and feels rejuvenated.
Bye-bye Bloating
Literally say goodbye to bloating. Eat raisins regularly and you will feel that bloating problem is gone. This is because of the fiber present. Those who have experienced are stunned with the benefits of this amazing dry fruit.
Sarvyoga Takeaway
Every food has pros and cons. One should analyze the body structure, needs, demands, disliking, etc of their body, and should intake food accordingly. Although raisins are awesome dry fruits, one should consume according to the structure of their digestive system. Sometimes doctors suggest not to experiment with the food. So it would be better to consult any doctor or dietician before consuming raisins regularly. You will get a better idea about the quantity, ways to eat, and advantages after proper consultation.