The benefits of yoga for skin and hair are not unknown. It improves skin but makes your body flexible and boosts immunity. Practicing yoga regularly makes hair shiny and healthy as well. Practicing the yoga asanas the right way and with utmost discipline repairs your hair from within. In this article, we will discuss the right yoga asana to make your hair strong like never before.
People are now choosing to practice yoga for strong hair, and for this reason yoga institutions are earning fame day by day. Online yoga classes also emerged hugely during the time of pandemic, and went really well due to the wide demand for yoga practice in people sitting indoors. Yoga can do wonders for nourishing hair, if done in the right way. There are different yoga asanas beneficial for strong hair, and helps in reducing dryness, rough hair, and promotes hair growth.
How Yoga works for Strong Hair
When you stretch your muscles while practicing yoga, it increases blood circulation. And repairs the cell. Modern yoga that incudes Dog posture is considered superb for hair growth. It also helps in body flexibility and a great physique.
Practicing meditation during your yoga session is always a cherry on the cake. It gives you a calm mind and lets you relax that automatically promotes hair growth.
What are you waiting for, just buy a yoga mat and make a routine. In this article, we will discuss the yoga asanas that are perfect for strong hair.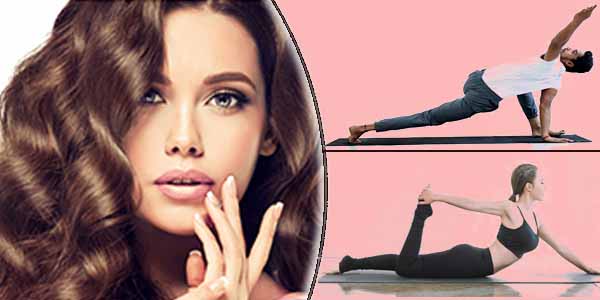 Downward-dog posture
Downward-dog posture is also called adhomukh savasana. The best way to do is to pose like a dog. Stand with the help of both legs and hands. Knees and palms both have to be on the mat. Pressurize your feet and while pushing your legs to the back, make a 'V'. Make sure your arms and knees are straight altogether. Head should be bending-down, it would be better if you see your stomach while doing this pose. While exhaling and inhaling stay in the posture for a slow count of 10.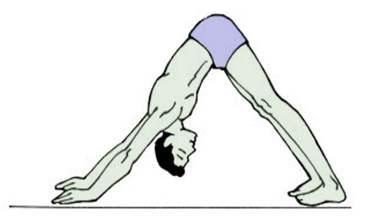 This asana is extremely beneficial for hair strength, back pain, migraine pain, and helps in relaxation of brain and body. The blood flows from head to throughout the body in a balanced and proper way, thus making hair, skin and body stronger than ever. If a person is sleep deprived or is depressed, then practicing this asana regularly can be really helpful. It also helps in dealing with baldness, by regenerating new and healthy hair.
Head stand-Sheershasana posture
The blood flows till the head while you practice this asana. This is best for head-related problems. The regular practice of sheershasana will definitely take the practitioner towards perfection. To perform this, first, you need to sit in vajrasana or kneeling pose, and then bend down and put your head on the mat. Slowly lean forward and both the hands should be on the floor. The hands should be tight on the ground, slowly put the head between both the palms. Make a V and stand to pressurize on your toes. Later, lift your body and breathe normally.
Vajrasana
Simple yet effective asana to strengthen the body, back and hair as well. To perform vajrasana, bow down on your heels and keep the back straight. Your head should be straight in-line with the back, and hands have to be in a relaxed position. Do this more often. You may also perform this posture after meals. In fact, this is the only posture that can be done after food. It helps in proper digestion.
Sarvangasana
Sarvangasana is also known as a shoulder-stand. Not only in hair growth, but it is very beneficial for physical health. As the blood flows till the head, it helps in making hair strong and prevents greying. For this, you need to lie down on your yoga mat, put your hands facing downwards in the sides. Raise both the legs and slowly lift your back. Slowly raise your buttocks as well, hold your back with your hands. Keep your spine straight and let your hands help you in doing so, and maintaining your posture. Your eyes should see your feet. Hold it for a few seconds and come back to normal very carefully.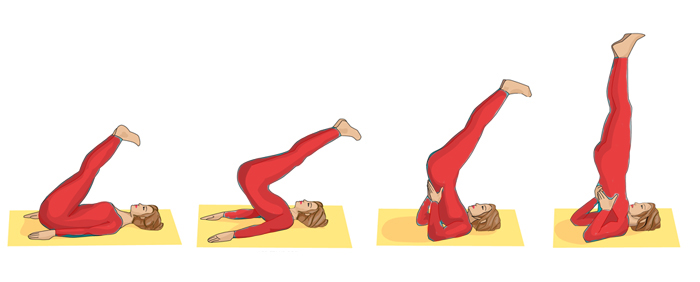 For a person suffering from migraine, this asana is very helpful. Very beneficial for thyroid as well. It prevents in hairfall and doesnt let hair grow grey easily.
Shashakasana (Rabbit pose)
Shashankasana is also known as rabbit posture. Performing shashankasana properly gives you extremely healthier and stronger hair. So if you are worried that your hair is falling badly, then instead of taking too much tension, make a habit of doing this asana on a regular basis. For this, on your mat stand with on the knees and bow down so that your head touches your knees. Your arms should be straight and your hands should try to touch your heels. Practicing rabbit pose regularly for around 6-7 times makes your hair healthy, and corrects the body posture also.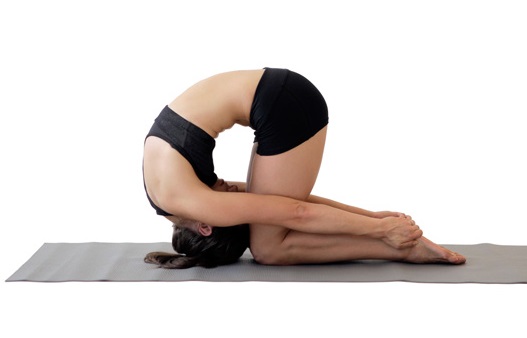 Sarvyoga takeaway
The yoga asanas we discussed to make your hair stronger are extremely beneficial. Instead of wasting too much money on chemical products for hair, invest a bit of time in these yoga postures. We bet you'll start getting results within a few weeks. Here the asanas we mentioned are a bit difficult also. However, if you practice them regularly, you'll definitely master, but for beginners, we suggest to perform them under a verified trainer or a yoga guru. Any mistake can lead to severe pain.