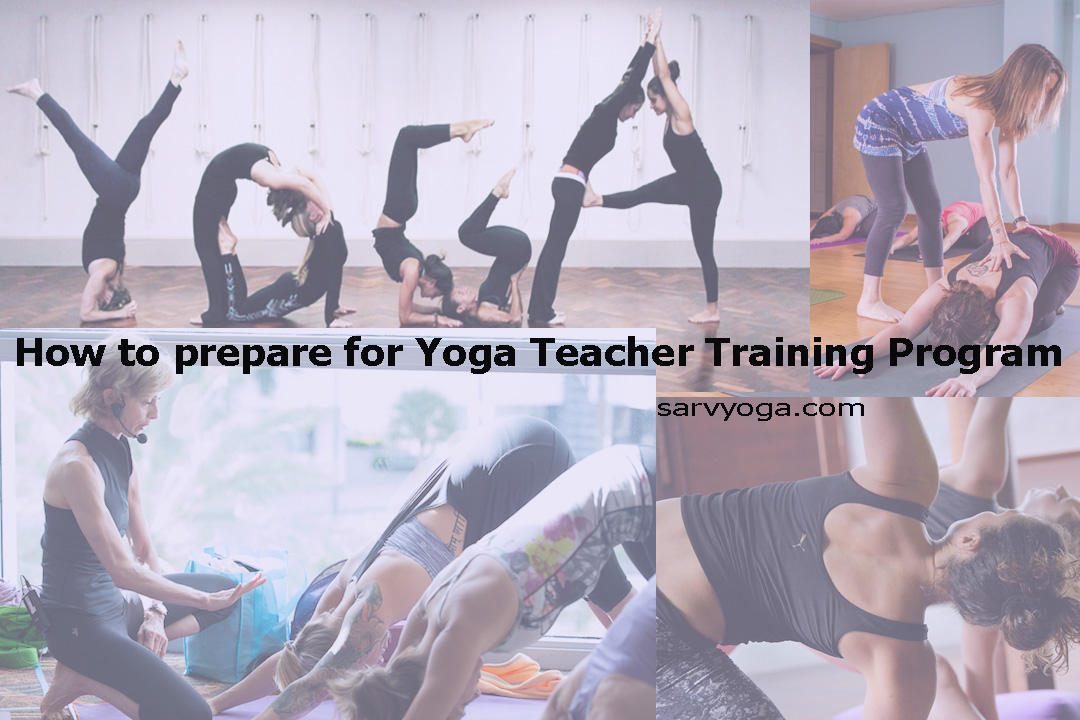 Yoga Teacher Training embarks the beginning of a new phase of life. It is the preparation of moving from a Yoga practitioner to a trainer. Like any other new chapter of life such as college, new job or learning a skill, this is thrilling too. Some of you also know that it is something you've never done before. So, you've to prepare accordingly to ensure that your Yoga Teacher Training is a success. We bring you a summarized guide to prepare for Yoga Teacher's Training!
1.

Do Your Spade Work
It is very likely that you travel to a new city for the YTT and be an in-house student. Find out from the organization and on your own more about the city. This could include – the climate, facilities, culture and people of the city. Also, you need to know about the School hosting you. Find out their rules and norms, restrictions, facilities and what all you're specifically asked to carry along. Get to know their courseware through brochures provided.
2.

Physical Preparation
During the Yoga Teacher Training, you are sure to undergo a thorough physical and mental transformation. Not only your body, but the mind is also trained in this process. It is necessary to have good flexibility by starting to do basic Asanas few weeks before the YTT. This will ensure that you have no injuries while on the intense training course. Mentally, you must prepare yourself to adapt to the norms of the School and some long, strenuous hours of training. Your body requires proper conditioning before starting the Yoga Teacher Training. Book an appointment with your doctor and confirm about your fitness for the YTT. It is a must to undergo medical tests so that later, your Yoga Teacher Training is not disrupted because of illnesses.
3.

Manage your finances
You may have to scoop out up to INR 30,000/- for the YTT fee, depending upon your course type. Most of the time, this fee is all-inclusive of accommodation, meals, facilities and experiences within the school. However, at some points, you may have to spend a little extra than mentioned, while on the course. These expenses vary per school. This is also something you should include in your spade work in #(1) above. Arrange to pay your routine bills back home beforehand or while on the Yoga Teacher Training to avoid any last-minute hassle. You may not need to carry a lot of cash to the school because most cities are densely equipped with ATM booths.
4.

Pack Right
Make a checklist for what all you need to pack along. This will prevent you from packing unnecessary items and you'll add only what is needed. Firstly, you will not need more than 3-4 pairs of Yoga costumes such as pants and t-shirts or whatever the school allows you. Remember to carry simple, comfortable clothing because physical exercises require comfortable clothes that don't make you awkward. You would also need shoes, slippers as easy footwear. Do not forget to pack in routine medicines, if any, anti-allergics, pain-killers. Carry any book/gadget/game that refreshes you in your daily life. Any other utility items shall vary person-to-person.
Finally, It is good to know that you are going for training and not as perfect students. It is all right if you fail to do a 100% preparation because an individual learns by experience. And learning by experience is far more valuable than pre-defined learning.