Chakorasana is a Sanskrit word in which Chakora means the "Moon Bird". There are so many romantic lines or Poems of Hindi, in which the poet uses the word Chakora. Many old Hindi romantic songs you heard the Word Chakora with Chaand. Chakorasana Pose (Moon Bird Yoga Pose) is also famous for its various names.
According to Ancient Yogis, it is believed that the bird Chakora was deathless that owed its immortal life to its capability to drink the rays of Moon. The rays of the moon are called or used as the symbol of "Amrita" (nectar or the liquor of immortality).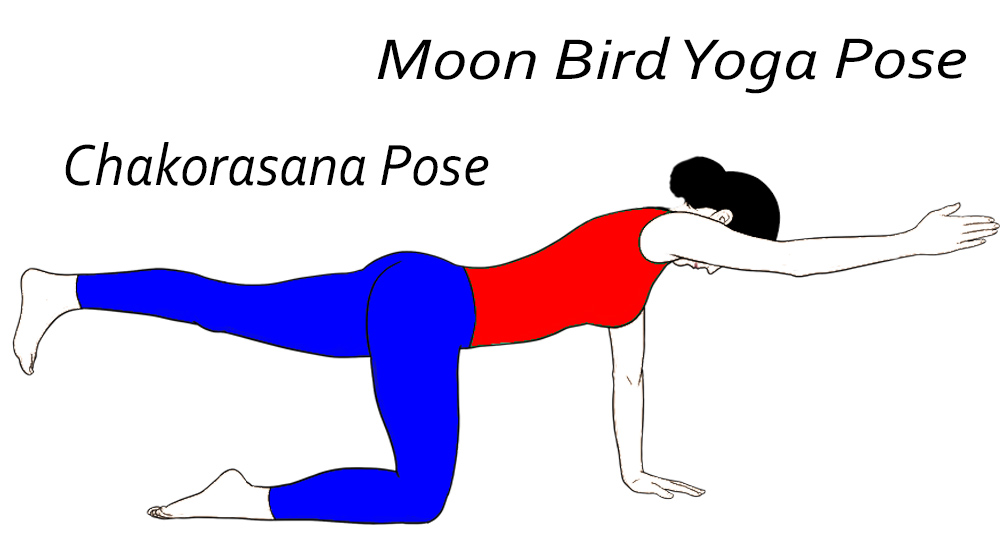 Asana Name – Moon Bird Yoga Pose
Sanskrit Name – Chakorasana
Asana Level – Basic
Meaning
Chakora – Moon Bird
Preparatory Poses
Plank Pose

All fours Pose (Table Top Pose)Table Top (all fours)

Cat Pose.
Counter Poses
How to Perform Chakorasana Pose (Moon Bird Yoga Pose)
First, come on all your fours and keep your hands below your shoulders. Knees are below to your hips and are parallel to each other (Means kneel down and place your hands on the floor).

Second Step, shift your whole body weight equally on your hands.

Be careful & avoid the stress of the weight of your mid-section (Torso) on your hands.

Breathe in and raise your left arm straight just parallel to the floor along with lift your right leg up and extended off the floor in backward position.

Note that; don't bend your lifted right leg and left arm during the process.

Breathe deeply, and keep your shoulders & pelvis square to the floor.

Make sure your upper arm bone is strongly in the shoulder joint.

Avoid too much height reaching by your lifted hand.

Slowly extend your lifted leg, try to keep your lifted arm and raised leg in one line. Or you can raise your leg as much as you can.

Remain in the pose about 30 to 60 seconds. After that, lower down your arm and leg. Now you are in the initial position rest for

a few

breaths and then follow the same steps with your other leg and arm.
(Keep your head little tilt towards the floor means little bit bend towards the ground. Or you may also look forward)
Benefits of Chakorasana Pose (Moon Bird Yoga Pose)
Chakorasana Pose gives stability to your pelvis & spine.

Chakorasana Pose improves your sense of balance.

Moon Bird Yoga Pose makes your abdomen as well as lower back stronger (it's better if you hold your breath).

Managing your body weight on your arms makes your arms stronger.

Chakorasana Pose is best for your back muscles & core.

Moon Bird Yoga Pose is best for the problem of disc herniation & hypermobility.
Important Notes
Chakorasana is quite easy to do

a pose

, but there are some few things which should avoid.

All the knee down Asana should don't be done in knee injury/surgery. So, avoid Chakorasana in knee pain.

In case of CTS (carpal tunnel syndrome), wrist injury, cuff injuries and in frozen shoulders.

Also

, avoid this Pose.

You don't have to raise your leg and arm too much.

Always do all your practice in front of an expert person/teacher.

Keep several hours gap in between your meal & Yoga regime.

A peaceful

and soothing environment is best for Yoga practice.
(No if No but during practice)