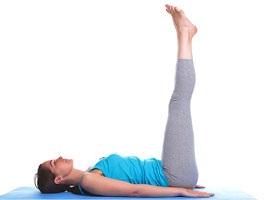 SANKSRIT NAME: ARDHA HALASANA
ENGLISH NAME: HALF PLOUGH POSE
Ardha literally means half and Hala means plough. It is an intermediate posture to perform Halasana hence it is named as Ardha Halasana.
Technique of Ardha Halasana:
Lie down in Shavasana (supine position).
Join the both legs and keep your hand with the thighs.
Slowly breathe in and raise the leg perpendicular to the ground keeping the knee straight.
Hold in the breathe and stay in this position as long as possible.
Breathe out and bring back your legs.
Come back to the normal position and relax for a while.
Repeat the same for 3 to 5 times.
The above mentioned technique can also be performed only with a single one after the other.
Benefits of Ardha Halasana:
Improves digestion and appetite.
Improve blood circulation.
Strengthens the thigh muscles and calf muscles.
Helpful to reduce abdomen fat and lose weight.
Stimulates the abdominal organs.
Therapeutic application of Ardha Halasana:
Indigestion
Constipation
Obesity
Urinary disorders
Contraindications:
People suffering from any cardiac problem, back pain, high blood pressure should avoid this practice.