Not always going OUT helps you in healing, most of the time going IN also heals you. Looking INSIDE not only heals but helps in living life to the fullest. With the rise of painful moments, arises negative thoughts, which easily captures the brain, and the heart. To escape from this cynicism might seem a difficult task, but actually it's not. It's simpler with YOGA, and definitely Life-Changing.
Practicing Yoga is helpful for a number of reasons; to stay fit, to keep going, for higher spirit, high activity, peace of mind, calm persona, composed brain, disciplined lifestyle, knowing inner self, and the list is long.
People out there have some or the other story, that kept then ON and ON, through Yoga. Their life changed drastically while practicing Yoga. Life-Changing Yoga journeys are interesting and inspiring. Let us have a glance at it to stay motivated.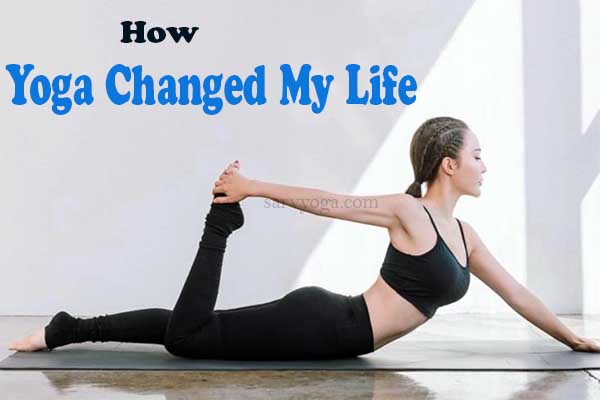 This is How Yoga Changed My Life
Indira Pandey is running her own fashion boutique in Lucknow shares her joyful story.
'The Idea of Yoga arises in a second and stays with you all life. It depends on how you grasp and take it forward. My story is full of ups and downs, and like any other common person, I too was devastated with the incidences of my life. A pitiful childhood, a broken family, a failed marriage, and a lot happened with me over the years. I started to lose myself in the big crowded world.
At the age of 45, I started practicing meditation. I wasn't a master but tried. In a few months when meditation and I became inseparable, I gradually began warm-up yoga asana and breathing exercises, it was immensely joyful and relaxing. Later I started practicing various asana and 2 hours of matful of sweat in the evening is what I started to look forward to all day, till now.
It has been 13 years and life seems to be beautiful than ever now. No, I am not detached with the world, but at this age, I know to be my own, and trained myself to react calmly and seek peace from the inside, not searching somewhere out. I would say no matter why you practice yoga, but make sure to connect mind and body while you do it, and not simply posing for some pics to upload on Instagram.'
The Calming Effect of Yoga Transformed me
I often used to lie, 'Yes I love my job', 'Yes I love to party', 'Yes I like to drink', 'Yes, I love Italian food', 'Yes I want to settle abroad', 'Yes I am happy'…was I really happy? NO! I simply lied. Lied to whom? To my family, my friends, society, and moreover, I lied to myself, that all that I am running after is what I need. Somewhere in my heart and brain, I knew that this is not the life I actually wanted. I wasn't serving my purpose and was lost. I belong from a small town and my siblings are all well settled in metro cities. Probably I lied because I wanted to compete with them or I thought this might be an ultimate aim for any person.
My instinct knew deep within that big MNC buildings never attracted me, I craved for dal-chawal, staying at my paternal farm-house in the village was my only aim, but funny…I couldn't accept it.
It was only when I started working with an MNC in Delhi, after a few years I realized that something was not right. I was confused about what to do. I then started Yoga for some peace. And guess what…I got peace. I realized the glitter was not that Gold. My Gold is back in my village. And after a few months, I went back to my hometown and now living in a happier mode. Yoga brought my true version. No one could ever do that what Yoga did to me. It's a precious part of me now which brought me to a purposeful life.
–Abhishek Mishra, Kanpur
Uncountable Perks of Yoga
How yoga changed my life is an interesting story and emotional at my heart. I have been into Yoga since I got hitched. I was never so cautious about my health and weight until my marriage. It was when I married and decided to have a baby after a few years. The goal for me was to keep myself fit anyhow, and I did it. Yogasana not only helped me to shed a few kilos but allowed me to move my body in ways I never could have imagined. The knots were untied and I was all flexible, rejuvenated, positive, and way fresher than ever.
The calming effects of yoga transformed my body and life. I inhaled the zeal and exhaled stress. Cheerfulness was my persona. Not just physically, but mentally I was flying higher, and it happened in just a few months. It has been 9 years of my marriage. I have a lovely 5-year daughter who loves to join my yoga practice. Not one, the perks of Yoga are uncountable.
-Puja Mishra, Housewife, Delhi
Sarvyoga Takeaways
Yoga eventually is a strength, confidence provider, and contributor for a healthy mind and body. Practicing Yoga poses on a regular base brings awareness about what is going inside you. It makes you meet your own self. Breathe in-breathe out, bend back & front bow…if any stress, let it go..!!