Are your loved ones (child) making their faces during eating vegetarian salads? Not to worry about it. Here we uncover the some Top Healthy Vegetarian Salad recipes. It's time to change and upgrade your healthy vegetarian salad recipes with this One.
We are sure your kids love these Top Healthy Vegetarian Salads recipes. These are not only for kids but for your whole family members. So, select the day, and enjoy the healthy Vegetarian Salads recipes with your dear ones/family.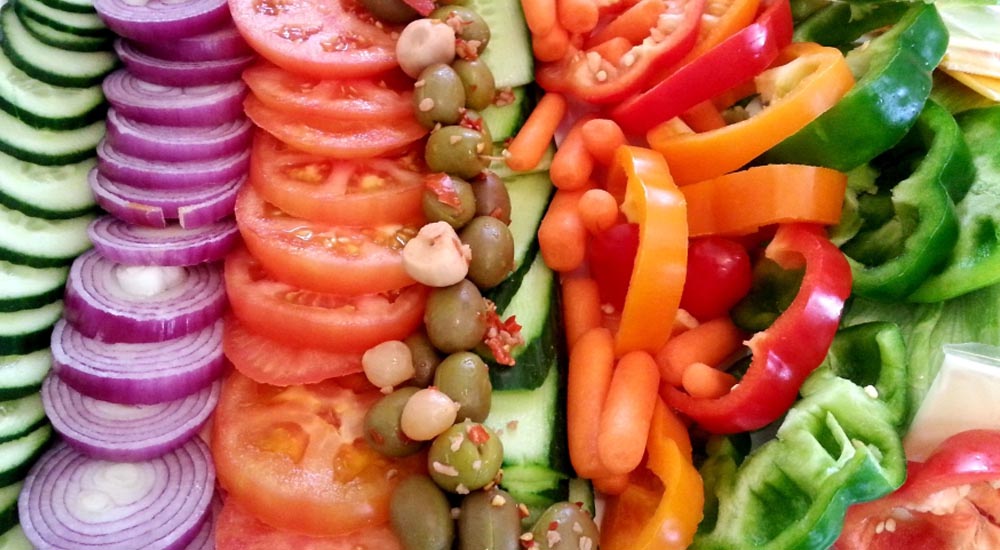 Vegetarian salads are known for its health benefits if you use correct ingredients and taken in the right ratio. These veggie's salads improve your physical health (lower down the cholesterol, reduce the blood pressure, weight loss). Healthy Vegetarian Salads are easy to digest, thus it is good for your digestive system.
The interesting thing is that these salads recipes need no extra spices or any exotic ingredients. All you need do to is just mix the different veggies, fruit or dry fruit. Which you easily find in your kitchen, that's it and your healthy vegetarian salads are ready with 10 to 20 minutes with some basic ingredients.
Broccoli mixed vegetarian salad
Items or ingredients
You need one & half cup of fresh broccoli florets.

One cup of red grapes.

A half

cup of raisins (dried).

One-sixth

cup of

well-sliced

onion (red/white).

A half

cup of yogurt (ordinary or Greek yogurt).

Half or one teaspoon of black pepper.

Some maple syrup

Two tablespoons of vinegar (balsamic or white wine vinegar or you use both).

Some amount of flaked almonds.

Last, salt according to your taste.
Preparation
First

, take a bowl and mix vinegar, yogurt, black pepper, maple syrup, and salt.

Second, add red grapes, sliced onions, and florets of broccoli in the first mixture. After mixing nicely toss them.

Last, garnish with almonds flakes.
Vegetarian salad of watermelon & grapefruit
Needs
You need cubed watermelon four cups.

A half

cup of crushed cheese.

Two tablespoons of finely chopped basil.

Three cups of grapefruit (chopped).

Some maple syrup (or you may take one tablespoon).

Four

tablespoons

of lime juice.

Some pineapple juice.

Some mint leaves and salt to taste.
Preparation
Mix lemon juice, pineapple juice, maple syrup, and salt in a bowl (take the medium or large bowl).

Now, mix the watermelon, cheese, basil, and grapefruit; toss them together.

Last use

handful

of leaves of mint for garnishing.
Pomegranate & Carrot healthy Vegetarian Salad
Ingredients
You need one cup of pomegranate.

Two

tablespoons

of nuts (pecan nuts).

Julienne style cut one cup of carrots.

Some black pepper.

Few chopped leaves of mint.

Salt to taste (

it's

better if you use pink salt).

One teaspoon of brown sugar.

Some cilantro.

Lime juice three tablespoons.

Handful of cilantro
Preparation
First thing, mix brown sugar, mint leaves, black pepper, lime juice, and salt.

Now, add Pomegranate & carrots and mix all the items very well.

The last

step with pecan nuts & cilantro

garnishes your salad. It's ready to serve.
Healthy Vegetarian salad of Watermelon and Cucumber
Items
Cubed cut cucumber one cup.

Two cups of cubed cut watermelon.

Chopped mint leaves two tablespoons.

Good quality honey, two teaspoons.

Two tablespoons of lime juice.

Crushed or crumbled feta cheese, half cup.

A half

cup of tomato juice.

One sixth (1/6) pink Himalayan salt.
Preparation
Mix tomato juice, lime juice, feta cheese, honey, pink salt, watermelon, and cucumber in a large bowl.

Toss nicely along with garnish with green & fresh leaves of mint.
Awesome combo of Beetroot & Avocado
You need
Avocado one cup.

Baby spinach two

cups

.

One fourth (1/4) cup of

well-sliced

onion.

1 cup sliced beetroot

Cherry tomatoes half cup.

Olive oil two tablespoons.

Mustard one teaspoon.

A half

cup of crushed cheese (feta).

Vinegar four tablespoons.

Some black pepper & pink salt.
Preparation
Mix all the vegetables. Then in this mixture add olive oil, vinegar, Dijon mustard, salt & pepper in a bowl.

Mix these entire things very well by tossing.

Last use crushed or crumbled cheese as a topping.
Try healthy vegetarian Cucumber salad in Thai style
Ingredients
A half

cup of bean sprouts and one cup of nicely sliced cucumber.

Two tablespoons of peanuts and two tablespoons of lime juice.

You need

a half cup

of lettuce (iceberg), half teaspoon of brown sugar.

Olive oil one teaspoon, half teaspoon of nicely chopped jalapenos (with seeds).

Salt as per your taste and finally 6 to 8 pickled olives (slices).
 Preparation
One by one mix all the items in a large glass bowl and toss it well. Add salt and finally serve with peanuts topping.
Pomegranate Apple healthy Vegetarian Salad recipe
Main ingredients
You need one

cup

of mixed greens and two cups of lettuce (romaine).

Half cup feta cheese, sliced apple one cup.

Take 2

tablespoons

of honey, five

tablespoons

of vinegar (balsamic).

Finely chopped garlic one tablespoon and two

tablespoons

of extra virgin olive oil.

Some black pepper and lime juice three

tablespoons

.
Preparation
Combine garlic, vinegar, olive oil, honey, black pepper, lime juice, & salt in a large bowl.

Now add lettuce, apple, mixed greens toss it and mix well.

The last

step, garnish with feta cheese.
Benefits of Healthy Vegetarian Salads
First of

all

, it is easy to digest and very light, thus good for your digestive system.

Once in a week only take salads in your breakfast and lunch. This will helps you to control your weight.

Green veggies are

a good

source of fiber, minerals, proteins, iron, and vitamins. Hence it improves your immune system.

With

the rich

amount of nutrients, vegetarian salad is good for your eyes, skin,

and

hair.

Maintains the level of blood pressure along with lower down the cholesterol.

Best for diabetic and fatty people but with some instruction.

Healthy for your kids and your all family members.
Important Notes
Diabetic patients should not use maple syrup or honey in their salads.

Patient of High blood pressure

takes a pinch

of salt in their Vegetarian salads.

Ask the dietician before taking or trying salads for extra knowledge.

Take healthy food along with regularly follow the routine of Yoga.

Choose always fresh and organic vegetables and other edible items.
(Eat healthy live well)