The name "Chakrasana" comes from the Sanskrit words "Chakra" which means the wheel, and the meaning of Asana is "Posture" or "seat". Chakrasana or the wheel pose is a backward bending yoga asana. Chakra in Sanskrit means Wheel. In Wheel Pose, the final position looks like a wheel, hence the name. It gives great flexibility to the spine. It is called chakrasana since the body takes almost a wheel-like, semi-circular posture while performing this asana.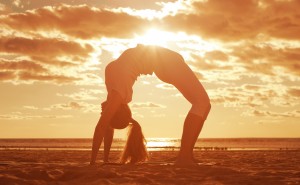 English name: – Wheel Pose
Sanskrit name: – Chakrasana
Pose type: – backbend, stretch, inversion, balance.
Body position: – Supine
Level: – Advanced
Another name: – Urdva Dhanurasana ( Upward-Facing Bow Pose).
Preparatory Yoga Poses
Steps of Chakrasana (Wheel Pose)
Lie down on your back with feet apart, bend your knees and place your feet on the ground close to your body.
Now bring your palms under your shoulders such that the fingers point towards the shoulders and the elbows are shoulder-width apart.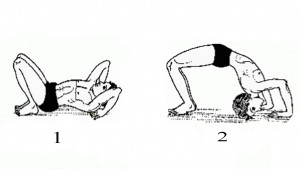 Inhale and press your palms firmly into the floor.
Lift your shoulders and elbow firmly into the floor
Your Feet should be pressed firmly into the floor.
Inhale and lift your hips up.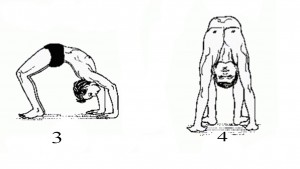 The spine should be rolled up so that it may seem to resemble a semi-circular arch or wheel.
Straighten out your arms and legs as much as possible so that the hips and chest may be pushed up.
Hold this pose for at least 15-30 seconds.
To go back to original, bend your elbows to lower your head and shoulders to the floor.
Then bend your knees and bring your spine and hips back to the ground and relax.
Also Visit:
Yoga vs Gym
Green Tea
Aloe vera
Benefits of Chakrasana (Wheel Pose)
Chakrasana strengthens the liver, pancreas, and kidneys.
Excellent for the heart.
Good for infertility, asthma, and osteoporosis.
Wheel Pose Strengthens arms, shoulders, hands, wrists, and legs.
Stretches the chest and lungs
Strengthens the arms and wrists, legs, buttocks, abdomen, and spine
Stimulates the thyroid and pituitary glands.
Increases energy and counteracts depression.
Cautions of Chakrasana
Do not try this Yoga Pose in case of a back injury.
If you are suffering from heart problems, then don't try this.
A headache, Diarrhea, and carpal tunnel syndrome.
High or low blood pressure.
Do not perform this if suffering from any cardiac or spinal problems.
Avoid if suffering from a hernia.
Chakrasana, even though deemed a basic one, is extremely challenging. But if done correctly and regularly, it can not only make you stronger, but also more compassionate, fearless, and happy.
Wheel Pose (Chakrasana) FAQs
Who should not do Chakrasana?
People, who are suffering from a cardiac ailment and high blood pressure problems should avoid chakrasana. and you should also avoid this if you are too tired, heart ailments, have weak arms or wrists, hypertension and during pregnancy. beginners should practice Wheel Pose under the guidance of an expert.
How to practice Chakrasana?
There are two ways to perform wheel Pose. first, one is Lying down on your back and the second one is standing and back banding method You should follow the steps we described both ways above in this article.
Does Chakrasana increase height?
The Wheel pose of yoga helps to increase the flexibility of the body by stretching muscles and makes the spine more elastic which helps to increase the height. to know more benefits and its effect on the body you can visit research on chakrasana.
How to do a standing Chakrasana as a beginner?
For Beginners, you should start with lying down position, after some practice in this way, when you feel comfortable, you can try standing way to do wheel pose. and during back banding take the help of others to support your back. Don't practice it without guidance of any expert or Yoga teacher.
What other Yoga Poses can I practise with Chakrasana?
Before the wheel pose, you should go for Bhujangasana and Virasana. and after wheel pose, you should do Ardha Matsyendrasana and Supta Padangusthasana. regular practice of these yoga poses will help you to increase the flexibility of your body to make you stronger.